Museum of New Zealand Te Papa Tongarewa
Te Papa is New Zealand's bold and innovative national museum and a recognised world leader in interactive and visitor focused museumexperiences.
As well as being a six level museum that showcases New Zealand's national art and treasures, it is also a unique conferenceand events venue that combines serious business with outstanding hospitality.
The stunning waterfront location puts Te Papa at the heart of Wellington, and provides plenty of natural light and lovely harbour views.
Te Papa is close to all major hotels and public transport and offers plenty of onsite parking, so delegates will find us easy to get to.
You will enjoy the unique experience of conferencing at Te Papa, with state of the art conference rooms in the heart of the city, and the cosmopolitan atmosphere of the Museum.
Te Papa offers you the opportunity to combine unique museum experiences while you're at the NZSEE 2020 conference.
Join us at Te Papa Tongarewa for both the conference and conference dinner.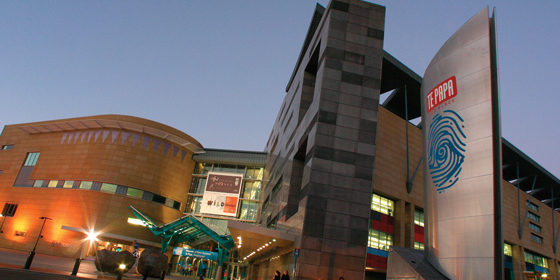 How to get there
Hop on a bus
Wellington has an extensive network of bus routes. For timetable information for bus contact Metlink on 0800 801 700 or visit metlink.org.nz.
From the airport to the town
Buses, airport shuttles, taxis and limos are all lined up outside the terminal, ready to go. Taxis and Airport Shuttles offer door-to-door service and the public bus comes through every 15 minutes.
Uber and Zoomy also operate to and from the airport - you need an account and must order your car from your mobile phone - the cost is approx $25.
Taxi ranks can be found directly outside the baggage claim area on level 0 of the main terminal. It might cost approx $35-$40, but prices can vary quite a lot depending on the company. They all take VISA and master card.
Bus from the Airport
Airport Flyer Bus is an express bus service that runs from Wellington International Airport to the Hutt Valley, through the centre of Wellington, on to Queensgate - Lower Hutt. The service runs at least once every 20 minutes, every day between the Airport and Lower Hutt. Airport Flyer departs from the southern end of the airport terminal, level 0 (exit from baggage claim doors on level 0 and turn right) and the cost to get to the city is $12 per person.
Shuttles
Super Shuttle's shared-ride fares offer substantial discounts for passengers travelling in the same group to the same destination. Shuttle ranks can be found directly outside the baggage claim area on level 0 of the main terminal.