We have reserved rooms at a selection of hotels in Hamilton at a special conference rate. We'd like to encourage you to all stay at the conference hotels as this will mean that everyone's in the same place giving more opportunity for you to network with new friends outside of the conference hours.
IMPORTANT: The conference programme will be starting early on Thursday 5 August so you may wish to consider checking in to your accommodation on Wednesday 4 August.
To book your accommodation
Refer to table below refer to 'Contact to Book' details and make a note of the reference to provide.
Transport will be provided
Transport will be provided to and from the conference hotels and Mystery Creek each day. Please CLICK HERE to view the transport timetable.
Accommodation Cancellation Policy
Please ensure you read and understand the hotel's terms and conditions as they vary from one hotel to another. It is your responsibility to contact the hotel directly for any amendments or cancellation and all payments.
All bookings are subject to availability.
Bring your own Campervan
Campervans are welcome onsite at Mystery Creek. Power connections are available as well as toilets and shower facilities. There will be a $70 + GST power connection fee per camper site.
If you wish to take up this offer, please email hortnz2021@confer.co.nz.
Rent a Campervan
If staying onsite at Mystery Creek is of interest to you but you do not have your own campervan, you can rent one instead, and the camper will be delivered to Mystery Creek for your convenience.
Options:
Ultima      $1025 inc GST (2 berth)
Cascade    $1165 inc GST (4 berth)
River         $1240 inc GST (6 berth)
Pricing is inclusive of 3 nights hire (Wednesday to Friday), delivery to and from Mystery Creek Events Centre, Bedding, gas usage, waste and waste water removal at the conclusion of hire.
There will be an additional $70 + GST power connection fee per camper site.
Full payment must be at the time of booking.  Please email hortnz2021@confer.co.nz to book.
Ramada by Wyndham
287 Victoria Street, Hamilton
Ramada by Wyndham is a 3 star hotel in an iconic 140-year-old heritage listed building. Ramada by Wyndham offers 69 well-appointed guestrooms featuring a variety of room configurations including apartment style accommodation with full kitchen facilities.
Contact hotel for rates and availability.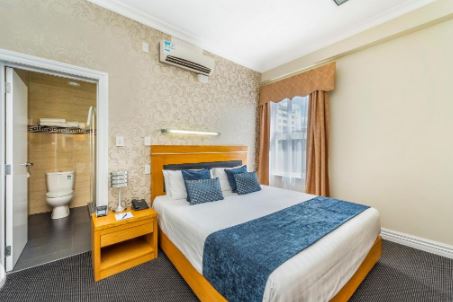 Novotel Hamilton Tainui Hotel
7 Alma Street, Hamilton
Make yourself at home in 4-star comfort at Novotel Hamilton Tainui hotel in the city centre. Start your day fresh with breakfast from the buffet in the light-filled restaurant or on the terrace adjacent to the Waikato River. Contemporary decor and natural light will make your room a haven whether you're working or holidaying at Novotel.
Contact hotel for rates and availability.
Ventura Inns and Suites
23 Clarence Street, Hamilton
We offer 50 guest rooms with a choice of either studio rooms, or one-bedroom suites featuring kitchen facilities and separate bedroom. Rooms with king-size beds and spa baths are available.
Contact hotel for rates and availability.