Hamilton & Waikato Region
From long stretching beaches and a thriving metropolitan city to underground wonders and Middle-earth movie magic, the Hamilton & Waikato region's diversity provides endless options for any business event.
The region's diverse natural landscape offers a variety of activity options – surrounded by ancient mountains, long stretching plains give way to unmatched subterranean cave systems and black sand beaches of the rugged west coast. Great walking, hiking, and cycling trails lead to awe-inspiring views and beautiful waterfall finds, while native forests and rolling green hills are also prevalent throughout the region.
The Hamilton & Waikato region is conveniently situated in close proximity to other activity hotspots and provides the perfect base from which to explore the central North Island. Several highways pass through the region including State Highway 1 taking in Hamilton City, Cambridge and Tirau, connecting to Auckland in the north and Taupo in the south. State Highway 3 takes in Waitomo along with neighbouring towns, Otorohanga and Te Kuiti. Air services operate through Hamilton International Airport, providing regular domestic flights to destinations throughout New Zealand.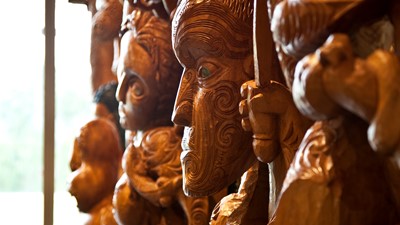 Waikato Museum
Waikato Museum's exhibitions, events and programmes tell our stories from a regional and global perspective, and include visual art, social history, tangata whenua and science from touring exhibitions, and the museum's own collections.
On the banks of the Waikato River, in the heart of Hamilton's south-end cultural precinct, Waikato Museum's 13 galleries feature more than 25 new exhibitions and 100 public events annually. Through this interactive programme we aim to engage and inspire our local and international visitors.
Highlights include the majestic war waka Te Winika, For Us They Fell, the Waikato WW1 story,  the fun hands-on science galleries for children; and our galleries which exhibit a rich blend of artworks.
Waitomo Glowworm Caves
World-renowned and a magnet for both local and overseas visitors, the Waitomo Glowworm Caves occupy a high placing in the New Zealand vacation wish-list.
The glowworm, Arachnocampa luminosa, is unique to New Zealand. T housands of these tiny creatures radiate their unmistakable luminescent light as our expert guides provide informative commentary on the Caves' historical and geological significance.
Waitomo Glowworm Caves are a must see for any traveller. Enjoy the world famous boat ride under thousands of magical glowworms and become a part of over 120 years of cultural and natural history.
Hamilton Gardens
Hamilton Gardens is an award-winning destination located halfway between Auckland and Rotorua, Auckland and Waitomo, and 45 minutes from Hobbiton.
Hamilton Gardens is committed to a range of sustainable management practices including:
Supporting the conservation of native wildlife, such as native long-tailed bats and bellbirds through planting, habitat protection and predator control.
Ongoing planting programmes and the propagation and distribution of locally environmentally sourced New Zealand plants for restoration work.
Sourcing all irrigation and most of the Gardens' water features from the Waikato River and conserving water through night time irrigation, mulching, monitoring and recycling.
Recycling glass, paper, tin, aluminium, food waste, office supplies and garden compost and making our own mulch on-site.
Improving energy efficiency through monitoring, insulation and energy efficient technologies.
Promoting sustainable practices through the Sustainable Backyard Garden.
Reducing chemical controls through integrated management and good husbandry.
Hobbiton Movie Set Tours
Hobbiton™ Movie Set is an experience to tantalise the senses of visitors from all across the globe, as guests find themselves engulfed in the sights, smells, sounds and tastes of The Shire™, at the home of the Hobbits™, as featured in The Lord of the Rings and The Hobbit Trilogies.
The extraordinary following that the movies have amassed has led to our tours becoming a must see while travellers are in New Zealand. The Hobbiton Movie Set is the only set that remains intact from the trilogies, and that allows our visitors to fully immerse themselves in the wonders of The Shire.
Visitors are given the once in a lifetime opportunity to see an iconic movie set in its full glory; from wandering the rambling paths of The Shire, to seeing the submerged Hobbit Holes™ that litter the rolling hillsides.
You will be taken around the 12 acre set; past Hobbit Holes, the Mill and into the world-famous Green Dragon™ Inn, where you can sample our exclusive, specially brewed beverages to conclude your own Middle-earth adventure.
Free Hamilton City Centre Bus
The CBD shuttle is the most convenient way to get around the central business district (CBD) and it's free!
The bus leaves every 10 minutes Monday to Friday, 7am- 6pm and Saturday 9am-1pm. It operates in a one way loop from Anglesea Street outside the Transport Centre, to Caro Street, with a stop outside the i-SITE in Garden Place, and then travels to Alexandra Street, Hood Street, north along Victoria Street, Liverpool Street and then south along Anglesea Street.
http://www.busit.co.nz/Hamilton-routes/CBD-shuttle/
Hamilton Transport Centre
Hamilton Transport Centre is located on the corner of Bryce Street and Anglesea Street. It is the central hub for passenger services in Hamilton, regional and national coach buses.
Ticketing and information counters are available within the centre, as well as a café and public toilets.
Local Buses
With 28 bus routes in Hamilton and 10 others throughout the region, Waikato Regional Council's BUSIT service can work for you.
Waikato has a comprehensive local bus network, attracting more than four million passenger trips each year. Hamilton has around 900 bus stops and there are also bus services to Raglan, Cambridge, Te Awamutu, Paeroa and Huntly, Waikato.
For more information on the BUSIT network, visit http://www.busit.co.nz/